"Fore Ever" Golf Balls

(diynetwork.com)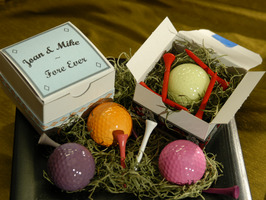 golf ball wedding favor
This is a great wedding favor to make for those couples who love golfing. This is a gift that sports fans in your wedding will definitely appreciate.


Things You Need


golf ball


golf tees


small 3"x3" cardboard jewelry box


moss


decorative ribbon


craft glue


decorative paper


paper glue


fabric dye


1. Use craft glue to glue a decorative ribbon around the lower portion of the box.
2. Print the bride's and groom's initials and the words "Fore Ever" on a piece of decorative paper; trim the paper to 2-3/4" square.
3. Center the paper over the top of the lid and glue in place using paper glue.
4. If desired, soak the golf balls in a dye bath ( mix per dye manufacturer?s instructions) for approximately half an hour.
5. Fill a box with moss, place the golf ball in the center and circle golf tees around the ball.
Join my mailing list and subscribe to my free newsletter. As a thank you, you will receive a link to download my wedding planning e-book free of charge.