Outdoor Wedding Ceremony - How To Plan For Bad Weather Conditions
Are you a bride planning your outdoor wedding ceremony? Don't fail to have a bad weather back up plan based on your selected outdoor wedding location.
There are a lot of beautiful outdoor wedding locations - lake front weddings, beach weddings, forest weddings,garden weddings - the list can be as long as your imagination would allow! As with all outdoor weddings, it is of the utmost importance that the bride and groom establish a backup plan in the event of bad weather.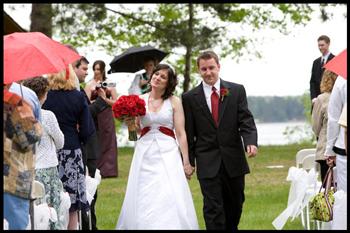 Photo Courtesy of Kellie Engstrom Photography

If the wedding location is on the grounds of a Bed and Breakfast, Country Inn or Country Club, plan in adavance to have a banquet room ready for you in the event of inclement weather. This option may cost a little more, but itwill save you a lot of worry and a potential lifetime of regret if Mother Nature does decide to shower you with her blessings on your wedding event!
Another option is to plan to have the ceremony outdoors and the reception inside. In the event of bad weather, you can just hold the entire wedding in the room you planned to have the reception in and this does not cost you a dime. This by far the most "secure" and least expensive way of having an outdoor wedding, and one of the easier backup plans.
If your outdoor wedding will be held in an area where there is no building available for use, then consider renting a tent for the reception. This is a must since you really don't want to be caught unprepared. Be sure that the tent is big enough for yourguests and sturdy enough to withstand the wind.
One last piece of advice, visit your prospective outdoor wedding site at the same time of day you expect to hold your wedding. This way you can anticipate what the elements will be like at the time of your wedding.




---
More Outdoor Wedding Planning Articles
Considerations For Planning an Outdoor Wedding
Planning An Outdoor Wedding


Return from Outdoor Wedding Ceremony to Home