Wedding Planning Timeline For The Organized Bride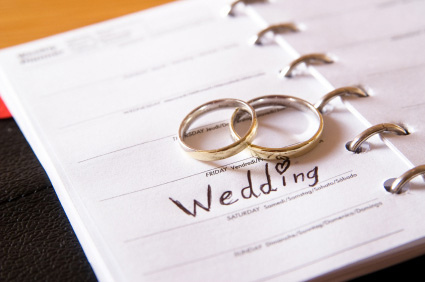 A clear and easy to follow wedding planning timeline is an extremely necessary tool for the bride of today, especially when planning for an outdoor wedding.
Whether planning a simple wedding or a large one, a wedding list based on a wedding planning calendar is very important to any bride. It is the best way to be on top of each planning stages, sort of like a check list, making sure everything gets done and nothing is overlooked.

Decide if you want to hire wedding planner.
Nine to Eleven Months Before Your Wedding
Look for possible wedding locations (for ceremony and reception) and book it as soon as possible.
Find out about the ceremony and reception site's regulations.
Research regarding township or park department's permits and law requirements for your sites.
Research and book a local wedding rental agency for rental items you might need (i.e. wedding tents).
If you want to have a destination wedding, request brochures and reserve the place as soon as possible.
Select an officiant.
Choose wedding attendants.
Start looking for wedding vendors (florists, photographers, videographers, DJs/musician).
Start shopping for your wedding gown.
Six to Eight Months Before Your Wedding
Begin looking at wedding invitations.
Send Save-The-Date cards to wedding guests.
Order your wedding gown.
Select the attendants' dresses and inform them of details.
Decide on your wedding vendors (florist, photographer/videographer, musician/DJ).
Meet with your vendors and discuss your ideas for your wedding.
Sign contracts and make deposits.
Schedule premarital counseling sessions if required.
Four to Five Months Before Your Wedding
Order your wedding invitations.
Create your wedding gift registry.
Begin shopping for attire for groom and groomsmen.
Plan your honeymoon and begin making travel reservations.
Two to Three Months Before Your Wedding
Send wedding invitations at the two-month mark.
Shop for wedding rings and arrange for them to be engraved.
Confirm delivery date for wedding gown, schedule fittings.
Determine what is needed for ceremony and reception decorations and purchase them.
Order your wedding favors.
Plan for wedding day transportation.
Attend dancing lessons, if necessary, in preparation for your first dance as a married couple.
Four to Six Weeks Before Your Wedding
Finalize your wedding floral scheme with florist.
Attend to your wedding gown fittings.
Meet with your hairstylist to finalize your hairstyle. Take your veil or headpiece with you.
Submit your wedding announcement to your local newspaper.
Confirm times and dates with all vendors.
Two to Three Weeks Before Your Wedding
Do paperwork for official documents if you are changing your name
.
Confirm honeymoon reservations.
Schedule final fitting for your gown on the two-week mark.
Meet with your DJ/musicians to finalize the songs you want played for the ceremony and reception.
Give final head count to the caterer.
Put together a seating plan if you are going to have a sit-down reception meal (Grooms, your help is needed here!).
One to Two Weeks Before Your Wedding
Confirm, confirm and confirm some more - confirm all details with all your vendors. Check again the wedding planning timeline to-do list for any items you might have missed.
Make arrangements for someone to take care of details like collecting wedding gifts and other items after the wedding reception.
Ask your parents or a close friend to take the top layer of your wedding cake home after the reception and freeze it for you. The reason? Plan to eat it as part of your first anniversary celebration!
If renting a tuxedo, groom picks up the tux and any necessary accessories at least one week prior to the wedding.
Pack for wedding night and honeymoon.
Bride gets manicure and pedicure. Get a massage if you want. You need to be relaxed and feel invigorated and be ready for the big day.
Rehearse the wedding ceremony with officiant and wedding party.
Enjoy the wedding rehearsal dinner.
Relax, it is your day! Enjoy the fruits of your hard labor and savor the beauty and the romance of your wedding day. You don't even have to look at your wedding planning timeline now!
Enjoy your honeymoon. The wedding planning is all done! Enjoy your new life together as husband and wife.
Write and mail thank you notes within one month of your wedding day.
Arrange for gown and veil to be cleaned and preserved within six months of your wedding day.

As you check off each item in the wedding planning timeline, make sure that you keep all the information you have gathered (contracts, receipts, etc) in a safe and organized place.