Save Money On Your
Outdoor Wedding Venue

Finding the outdoor wedding venue that would suit you and your groom is no sweat. However, finding one that would suit your shoestring budget is another thing. But, maybe not!

Locating a wedding venue should not be too hard even when you are on a tight budget. You just have to be flexible and be willing to compromise. Below are some great money-saving tips for you to consider.
Check Country Clubs and Your Local B&B

| | |
| --- | --- |
| Have an outdoor wedding ceremony and celebrate it indoors. This is the least expensive way of having an outdoor wedding. Look for great locations like a Bed and Breakfast, Country Inns and Country Clubs. Arrange to have your wedding reception in one of their banquet halls and your wedding ceremony outdoors. These facilities usually have great expanse of manicured lawn and landscaped garden with a gazebo, or even a nice lake as a backdrop. Most of all, in the event of bad weather conditions, Plan B is just a short distance away- hold the entire wedding in the hall you planned to have the reception in - for FREE!. | Wedding By The Lake |
Don't Get Married On A Saturday

Choose a wedding date that falls on a weekday. If that is not possible, have a Friday or a Sunday wedding. Saturdays are popular for weddings, especially an evening event. You can actually save hundreds of dollars by not having your wedding on a Saturday.
Avoid Popular Months

Get married during a less popular month. Wedding venues often are cheaper during January, February, March, November and early December.
Alcohol-Free Wedding

| | |
| --- | --- |
| | Choose a no-alcohol (or no open bar) reception. This is a delicate issue. You and your fiance(e) must be in total agreement on this one. Consider including a "No Open Bar" note in your wedding invitations. |
Be A Smart Bride
Negotiate for the best price possible. Don't be afraid to try to ask for a slightly cheaper rental price if you think it is too high. You will be surprised just how these wedding vendors are ready to work with you once you ask.
There's Always The Family Estate... or the Park!

If you are set on having all your wedding event outdoors, hosting a private backyard wedding is the way to go. If you don't own one big enough to host the number of people you are planning to invite, then ask a family or a close friend. No such luck? Then have your outdoor wedding venue in a public park. Check to see if a permit is required. The city/town hall is your best reference for this. Check if they have regulations regarding parking, trash removal or candle lighting.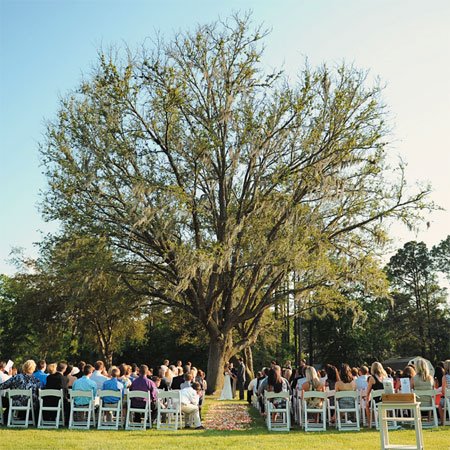 Return from Outdoor Wedding Venue to Home

---
Join my mailing list and subscribe to my free newsletter. As a thank you, you will receive a link to download my wedding planning e-book free of charge.