A Bride's Guide For Outdoor Wedding Dresses
Outdoor weddings usually call for semi-formal or casual outdoor wedding dresses. Here is a bride's ultimate guide in choosing her outdoor wedding attire.
Read here if you plan to design your own wedding dress.
The bride is the star of the day on her wedding and it just follows that a lot of thought would go into choosing the right outdoor wedding attire. Before deciding on anything, here are two important questions that should guide the brides in picking their perfect outdoor wedding dress.
Where is the location of the wedding?
A park or garden wedding setting calls for a formal wedding ceremony, so the wedding dress could be formal or semi-formal in nature, meaning long in length. Formal wear may or may not have sleeves, but many gowns in garden or park settings are sleeveless and the bride wear matching gloves.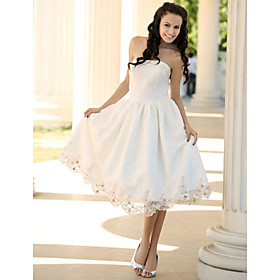 Beach weddings call for casual wedding dresses that are light, airy and sleek. Short, layered dresses with lots of movement and no straps or spaghetti straps are usually recommended. Form-fitting, short-length dresses are better for weddings on the beach. Long gowns might be too heavy specially when it drags across the sand and will be too hard to manage. Also, gowns with poufy designs and hoops built into it will be too cumbersome for the bride. You might consider foregoing the veil for beach weddings since the wind may just flap your headdress all over the place.
A mountain wedding is often beautiful and rustic. But a long, formal dress looks out of place. Use a tea-length wedding dress in your mountain setting, and make sure that the dress is simple.
What season of the year are you getting married?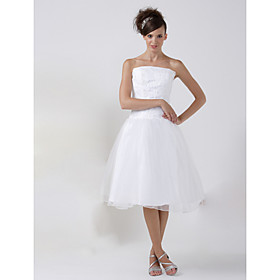 If you live in an area where you are blessed with nature's four seasons, then your wedding gown will largely depend on what time of the year you are getting married also. Spring and summer seasons call for lighter and flirty outdoor wedding dresses with lots of chiffon and organza, especially when the wedding is at a beach setting.
Obviously, when getting married in the cooler months, you would need more cover up. Drape your shoulders in a wrap or shawl that's bejeweled in sequins or for an even more dramatic look, incorporate a faux-mink wrap into your dress!
Keep in mind that you will be wearing your wedding dress for the most part of your wedding day, so choose the dress that you are most comfortable with. A very heavy, bulky dress will not be comfortable on a windy, humid day in the summer under the sun. And a light, strapless and short-length dress on a crisp, cold autumn day is not fun either.
---
Design Your Own Wedding Dress
Need help on how to design your own wedding dress? Choosing the perfect wedding gown either by shopping for it or by designing it yourself requires specific guidelines. Find out what these are.
---