Outdoor Wedding Decorations

Where to start when planning for outdoor wedding decorations? The most important thing to remember when decorating an outdoor wedding location is to keep it simple. Nothing can compete with the beauty of nature. Complement the setting, not overpower it. 

Any place that marks the front of the wedding functions as an altar. It can be either be plain or it can be decorated with flowers, fabric or combination of both. Other couple use arbor or trellis, others use the side of a barn! However fits your theme, you can make it work.

Wedding Aisle

Depending on the location of the wedding, having an aisle runner might not be a good idea. For breezy wedding locations like lakes and beaches, scatter flower petals on the ground instead.
If a situation arises where it had rained the previous day and the ground is wet, use a heavy aisle runner and reinforce it with a sturdy structure underneath. This has the added function of preventing heels from sinking into the ground.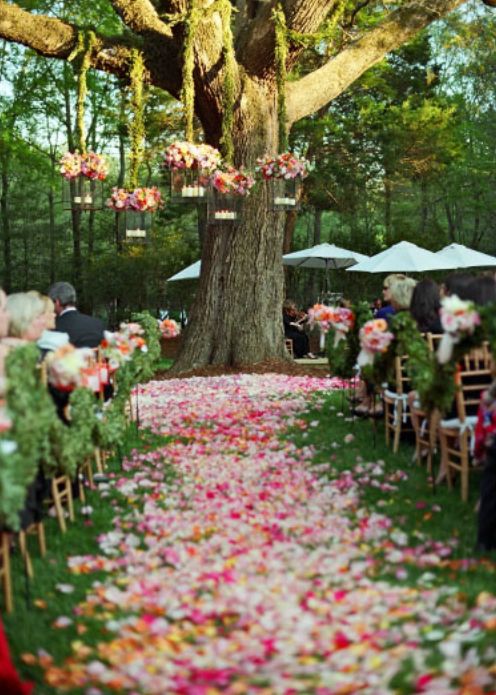 Wedding Chairs

White chairs look very beautiful with outdoor weddings. That said, white is not the only color that could be used. It is preferred that bride choose chairs that are uniform in size and color. Decorating each chair is unnecessary, unless you don't mind spending extra. Small bouquets or ribbons hung on the chairs closest to the aisle are always nice touches.
Tents
When renting an outdoor wedding tent, consider adding side walls like cathedral windows, fabric tent liners and leg drapes. . Plan ahead. Select and reserve your rental equipment early to ensure your choices are available when you want them.
Centerpieces and Decors

Consider centerpieces as the foundation of your reception decor. Centerpieces should be weighed down when used outdoors to prevent being blown over by the wind.
Use white lights and lanterns. Strings of light hung around the wedding site in the trees lends a classic touch especially for wedding that take place at sunset, framing the wedding site in a beautiful glow.
Consider using candles as additional light and decoration to your space. Candles can be a nice addition to a centerpiece.

Return from Outdoor Wedding Decorations to Home

---
Join my mailing list and subscribe to my free newsletter. As a thank you, you will receive a link to download my wedding planning e-book free of charge.