Dessert Only Outdoor Wedding Receptions
One of the most economical of outdoor wedding receptions, the champagne and cake reception is exactly what it sounds like.
Thoughtfully timed between meals, champagne, cake and dessert receptions presume that guests will not come -- or leave -- hungry. For that reason, these celebrations generally take place immediately after a late afternoon or late evening ceremony and are almost always served buffet style.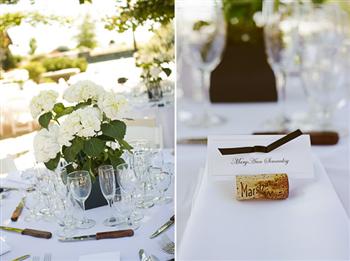 Photo Courtesy of Steve Steinhardt Photography
The main culinary attraction is the wedding cake, which can be accompanied by fresh fruits and assorted pastries. Beverages are usually limited to champagne (for toasting), soft drinks, sparkling waters, coffee and tea. The cost for this type of reception generally falls between $8 and $20 per guest, depending on the intricacy of your wedding cake and your selection of champagne.
At a dessert reception, offerings tend to be slightly more expanded. Traditionally, couples serve wedding cake, as well as an array of petit fours, cakes, tarts, pastries and other delicacies. Additionally, brides and grooms may offer their guests cordials and other spirits, as well as champagne, wine, and non-alcoholic drinks. Dessert receptions are typically buffet-style events that cost between $15 and $35 per guests.

Article as published @ WeddingChannel.com
Do you have any thoughts to share on this topic?
Post your comment and share your thoughts with us.