Extreme Outdoor Wedding Venues
Are you and your partner free-spirited? Looking for great ideas for extreme outdoor wedding venues?
More and more people are looking for something new and exciting for their wedding. Here are heart-stopping wedding ceremony ideas for a truly awesome and stand-out wedding.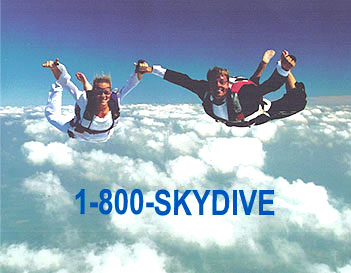 Skydiving Weddings
More than one way to take the plunge... You and your loved one will commit to a life together, and what better way to start your future than by sharing a real "leap of faith".
You can choose to hold your wedding ceremony on the ground before boarding the plane. You may have a quiet and intimate ceremony or call upon all of your family and friends to attend. After the ceremony the bride and groom board the plane with their tandem instructors for the big newly-wed jump.
Some couples choose to skydive together first and then hold the ceremony at the dropzone. The choice is entirely yours.
For the more adventurous types, certain companies have their own "Skydiving Preacher" who can perform the ceremony in the aircraft on the climb to jump altitude. Two "I Do's" and one kiss later you'll find yourself falling at over 120 MPH as a married man and woman.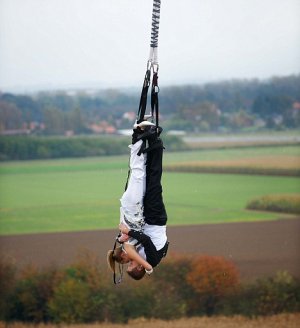 Bungee Jumping Wedding

Swan-dive into your new life! Here is something so unique as a wedding, you won't believe it's possible.
How is it done?
Your wedding ceremony will be held on the jump deck (the top of the tower) 50 meters above the ground. The platform holds around 100 people (standing) and there's plenty of room to walk up and down as required. When your vows have been spoken and the kiss has been eagerly received, the two of you as Husband and Wife will bungee jump together into your new life.


Underwater Wedding
If you and your groom are great fans of scuba diving and are not afraid to go through the planning of wedding performed underwater, then underwater wedding is for you. One simply suits up in scuba gear and dives in to the water. Once underwater, you see the fishes and corals that make a wedding truly unique.
There are no distractions from the world around, just you and your guests and the person performing the ceremony. If your friends and family are not certified to scuba dive, they can watch from the boat above and hear the entire ceremony as it is preformed.
This is a legal way to marry. Once the ceremony is performed, you simply return to the surface where you will sign the marriage certificate. In order for you to marry underwater, a special mask is given to the wedding party that allows them to communicate back and forth. These special masks are necessary in order to perform the ceremony and verbally express your intentions and to repeat your vows. The company providing the ceremony package provides all the necessary gear.
---
More Readings On Outdoor Wedding Venues


Destination Weddings Looking for romantic outdoor wedding locations to celebrate your union? Consider having a destination wedding!

Unusual Wedding Locations Unusual outdoor wedding locations to consider - from museums, to aquariums to a fall wedding in the Grand Canyons!

Top 10 Outdoor Wedding Cities Curious to see if your location is included? Here is a look at the best outdoor wedding cities and the reason behind the ranking.

Las Vegas Outdoor Wedding Las Vegas is the wedding capital of the world. If you are considering to have a Las Vegas outdoor wedding here are the basic steps you need to do.