Outdoor Wedding Decoration
Planning Guide
When planning for outdoor wedding decoration, practicality is the key. Unlike an indoor wedding wherein all the basics are available, outdoor weddings have more elements that need to be considered such as the environment, parking accessibility, location grounds and venue lighting to name a few.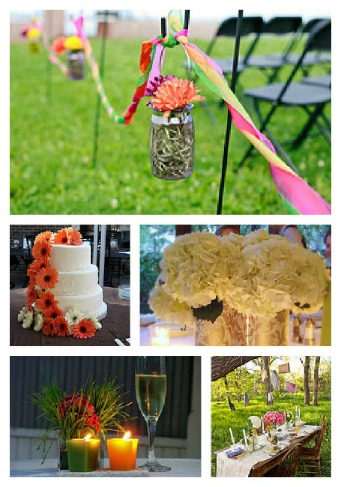 Check The Landscape
If your wedding venue is located on the grounds of your favorite country club, then you need to inspect the wedding location ahead of time. Personnel and staff of your local country club will take care of getting the ground ready like raking the leaves or cutting the grass but other than that, you are more or less responsible for your own outdoor wedding decoration. If you are planning to get married in a public park or your own backyard, then you are pretty much on your own.
Electrical Outlets
When inspecting your wedding location, make sure you have access to electrical outlets for your sound system and other needs that require electricity.
A day before your wedding, strung white lights on the low-lying branches and wrap white lights around the trunk. You can also hang china lanterns on the trees for an added touch of elegance. Test your lights to make sure that they are working properly. Wires should be properly tucked away so as not to trip guests during your wedding day.
Trees and Shrubberies
Are there trees and shrubs around the venue? If so, make sure that there are no dead branches sticking out. These could be an eyesore for you and your guests during your wedding day.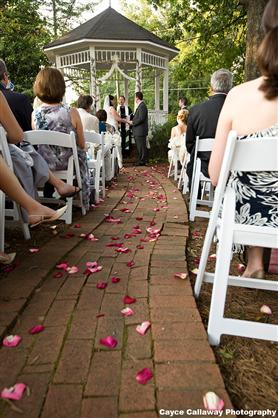 Utilize Amenities
Arbors, trellises and arches are almost always available. More often than not, flowers and vines are already in bloom and add natural beauty to the location.
In addition to the flowers, you can choose to decorate these structures using tulle and organza coupled with cut flowers. You can ask your own florist to do this for you or you could do it yourself. Using silk flowers, vines and tulle can do wonders to a wedding arch. Do not overdo it though. Simplicity is the key in decorating for outdoor weddings.

Wedding Chairs
Wedding chairs are very important for outdoor weddings. White wedding chairs against a backdrop of greens is absolutely stunning. If you can find white, elegant garden chairs, you can go the minimalist route and just decorate the chairs lining the aisle. Place a single flower on the side or hang a small bouquet. You can space it out, placing the flower after every two or three chairs.

Wedding Tent
Weather is the top concern for brides when planning for an outdoor wedding. Always prepare for the worst. Provide a sturdy tent in case it rains on your big day. There are companies that specialize in wedding rentals and as experts, they are a very good resource for all your wedding tent questions and concerns. You can ask them about outdoor wedding decoration and wedding tent accessories like side walls, including cathedral windows and frames which could provide a look of elegance for your wedding tent structure.


Citronella CandlesFor your guests' comfort (and yours too), provide a relief for those pesky bugs creeping or flying around. Place citronella candles in strategic places around your wedding location. Aside from its functionality, these candles double as decorations for your wedding venue.


Wind Alert
When planning your outdoor wedding decoration, make sure that everything is sheltered from the wind or heavy enough to withstand the wind. All structures should be grounded firmly to the ground. You do not want your decorations to be blown all over the place even before the wedding is done.
Read here for more planning tips on outdoor wedding decoration.

Return from Outdoor Wedding Decoration Planning Guide to Home