Outdoor Wedding Pros and Cons

For the brides who are still undecided, here are the pros and cons of an outdoor wedding. Consider each pros and cons carefully and then decide.
Advantages

Love Of The Outdoors


For couples who love nature the beauty of exchanging vows beneath a canopy of sky is reason enough to have an outdoor wedding.


Wide Open Spaces

If you are planning a large wedding, the outdoor wedding location's wide open area is an advantage, especially if you are planning a big wedding.


Disadvantages

Will It Rain?

Nobody can predict what the weather would bring. All you can do is to prepare. Have a Plan B in case Mother Nature decides to rain on your event!

Uninvited Guests

Also known as mosquitoes and bugs! Depending on where your wedding location is, this could be a major problem.
Other reasons to having an outdoor wedding.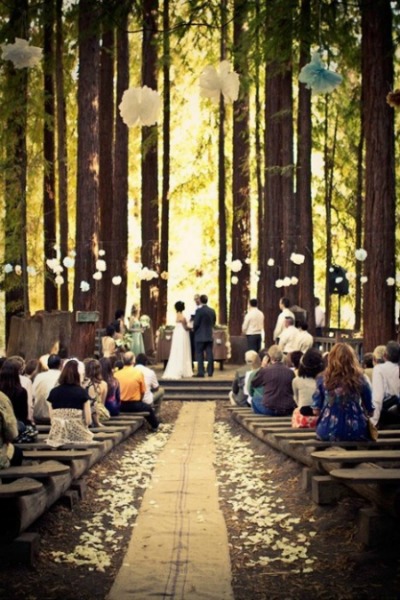 Photo source: google.com

Outdoor Wedding Makes for Great Pictures
The beauty and splendor of nature adds more to your wedding, making it extremely special. A gazebo on a tranquil lake with mountains on the background. The beauty of autumn colors - different shades of gold, red and oranges all around. Imagine the beauty those wedding pictures can capture.
Gives More Freedom For Creativity

Nature's beauty just stirs the senses and for the creative brides out there, they can freely express their creative spirit and add different aspects in their life to their wedding event, making it more special and unique for them.

Outdoor Wedding Solutions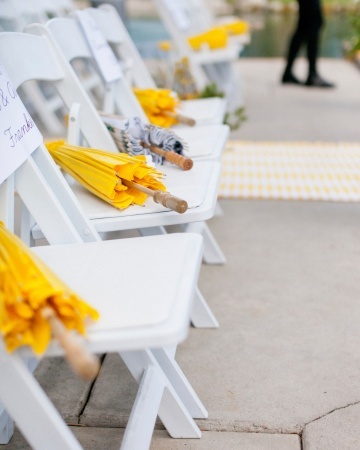 Photo source: marthstewartweddings.com

Depending on how the weather would be on your big day, your guests could be placed in a situation wherein the only thing they can remember of your wedding are the discomforts that they experienced.
This could be from getting wet from the rain.
It could be the shifting nature of sand, if your location is on the beach.
Or the high humidity of the day, especially if your wedding day is set during the height of summer.
Maybe it's those pesky bugs that seem to always be present when they are not invited.

Provide a solution.
Have umbrellas at the ready if it does drizzle.

Light citronella candles.
Provide a bug zapper to control the bugs.
Have a small station where you can offer bug sprays for your guests to use. 
Read and research extensively on when and what time of the year certain bugs, like cicadas, could be a major consideration for your outdoor wedding.
For wedding location issues like uneven grounds inform the lady guests that sandals would be more appropriate than high heels.
If the wedding is set at the height of summer, you might consider wedding favors that offer practical solutions like fans, personalized water bottles and sunglasses so as to help guests be more comfortable during the wedding ceremony.
Inform guests ahead of time of the location and type of your wedding. Inform them of the possibility of a windy or breezy weather so they too can plan and dress accordingly.
Think of all the possibilities that could happen in any given situation and plan for it, not just for the wedding guests but for you and the whole bridal party.

Return from Outdoor Wedding Pros and Cons to Home

---
Join my mailing list and subscribe to my free newsletter. As a thank you, you will receive a link to download my wedding planning e-book free of charge.